The newest addition to my Art & Design gallery on Zazzle is Harlequin Blue Flag.

I remember my first introduction to this flower as a young child. My Aunt would take us to her 'camp' and it was a challenge as we bumped along the narrow forest track to be the first to spot the clusters of brilliant blue wild iris. I was amazed that such a wonder could thrive amongst the rocks, moss covered logs and bogs.

I hadn't seen those regal beauties for many years, when I discovered a small clump of 'Blue Flag' in a low area of our back yard. I have guarded it vigilantly from the ravages of the lawn mower and wandering children and now I enjoy a spectacular show each spring.
This postcard below can be customized with personalized text on the front and flip sides, or it can be framed as art.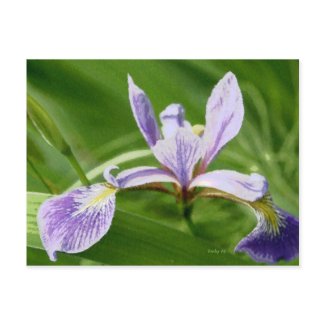 HARLEQUIN BLUE FLAG
by
dequilla
Other names for this flower are: Iris Versicolor; Blue Flag; Larger Blue Flag;
Blue Flag; Blue Water Iris; Poison Flag; Flag Lily; Liver Lily; Snake Lily; Dragon Flower; Dagger Flower; and Water Flag.

Blue Flag is the provincial flower of Quebec, Canada.

This image began as a digital photograph, which I took with my daughter's Canon Rebel in spring 2008. I love to explore digital manipulation of photographs. I used digital effects to create a watercolour like image of a single beautiful bloom.

This digital image is available as a paper or canvas print at my Zazzle gallery, as well as cards, postage and other items.
The beautiful U.S.A. postage below can be ordered in a variety of denominations, for your postcards to your packages!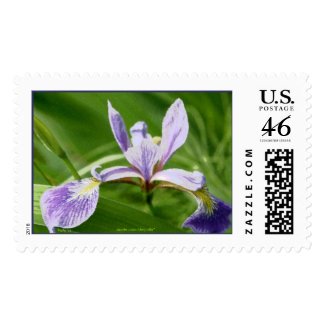 HARLEQUIN BLUE FLAG by dequilla
Iris is the generic name of a number of flowering perennial plants belonging to the natural order of Iridaceae.

In the Victorian "Language of Flowers" Iris means Faith; hope; wisdom and valour.

Iris plants have a creeping rootstock or tuber, sword like leaves, irregular flowers, and three stamens. They are found in both temperate and tropical climate zones.

The wild species of iris are generally called Flag, and the cultivated version, flower-de-luce, (fleur de lis) is so named for Louis VII who used them as his emblem.

The most common North American blue-flag is iris versicolor. It is native to North America, growing in swamps and low damp areas of loam or peat soil. The range of the plant is eastern and central North America and it is very common in Canada as well as parts of the United States. The violet-blue flowers with yellow and white markings grow on stems one to three feet high amongst large clusters of typical sword shaped leaves. Blooms appear from May to July.

This business, or profile, card can be customized to your text requirements, or to no text at all. There are many choices of card stock as well. The card is ACEO size and is suitable for framing.

HARLEQUIN BLUE FLAG bydequilla
With spring upon us I am looking forward to the opportunity to enjoy these blooms!

I added many new varieties of tulips and daffodils to my garden last autumn, so watch for some fantastic images of those colourful blooms soon!

To see more of my Floral and other images, visit http://www.zazzle.com/dequilla*


create & buy custom products at Zazzle